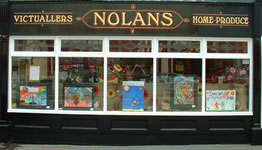 Nolans Butchers was established in 1886. Set up in the main street of a small village in Co.Kildare known as Kilcullen. It continues today with the next generation of the Nolan family,Andrew and his son James. They boast a staff of full-time and part time workers of about 20 men and women.
Kilcullen is a small village in central County Kildare in Ireland. While it is currently expanding rapidly the population stands somewhere circa 2,500 people. It is a village steeped in history and tradition. Once known for being the hometown to prominent Irish business man Dr. Tony O'Reilly, Kilcullen is more commonly known to the home of the best sausage in Ireland !! With increasing changes on our roadways it was feared that a town like Kilcullen might fall into the shadows. But it has been the call of the "Nolan's sausage" that has called many from the motorway to make the stop to the shop and helped to ensure that Kilcullen has kept its place on the map but more importantly in the minds of the people.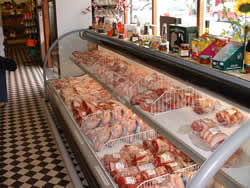 This butchers shop has become something of an institution for many people. There are many obvious reasons for this, such as quality,reliability and value for money; Nolan's however has a unique atmosphere. Dubbed aptly as the "social centre of Kilcullen". There is a vibe in the shop that typifies the nature of the people of the area. People arrive not only for the meat but also for the " meet". It is this combination of guaranteed quality and the unique atmosphere that make nolan's the butcher's with a difference.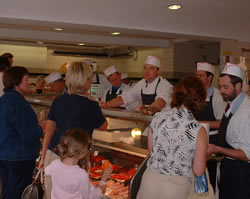 To shop here is a must, for in addition to the variety of fine fare, there is the happy ring of cheerful banter and endearing kilcullen wit, liberally dispensed with a standard of service long lamented elsewhere.
If quality and flavour top your shopping list, why not call in and sample the proof or contact us direct.

Nolans Butcher's,
Main St,
Kilcullen,
Co Kildare,
Ireland.
Tel: +353 045 481229